The Rihannsu Dictionary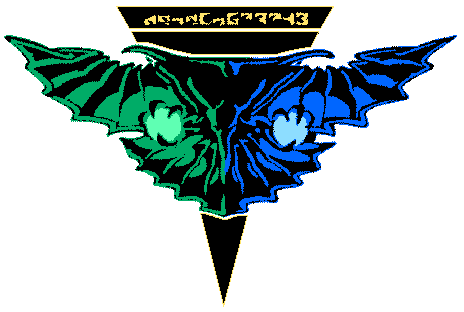 ---

A. The Main Rihannsu Dictionary
---
aefvadh interj.

1 greeting, literally "be welcome"

aehallh n.

1 a monster or ghost 2 an illusory creature,cognate to "nightmare" in terran tradition that "rides" thedreamer to its perdition 3 the image or illusion that one being hasof another, as opposed to the true nature of the person in question.

ael adj.

1 winged creature 2 prop. n. personal nameconnoting a creature which moves quickly giving one little time to make out details.

afw'ein n.

1 reason, logic, or logical mental process

aidoann n.

1 the moon 2 prop. n. personal name, connoting the moon

aihai n.

1 plains, flatlands, prairie

aihr indicative noun prefix

1 this is

Arrhae proper name

1 worth-in-cash, originally "arrhe"

arrhe n.

1 worth-in-cash 2 derog. a servant who performed the duties of slave below his/her rank, modified to be "a servant more worthy of a higher position than those awarded it"

au'e interj.

1 Oh yes

auethn imperative

1 advise me 2 answer a query

ch'Havran n.

1 planet of the Travelers

ch'Havranha n.

1 native of the planet ch'Havran

ch'Havrannsu n. plural

1 natives of the planet ch'Havran

ch'Rihan n.

1 planet of the Chosen

daise adj.

1 chief, principle, senior, foremost

daisemi'in adj.

1 chief among several

seihu n.

1 senator 2 elder

eisn n.

1 "Homesun", the G9 star 128 Trianguli

Eitreih'hveinn n.

1 the Farmer's Festival

enriov n.

1 admiral of fleet forces.

enarrain n.

1 senior Centurion 2 colonel of infantry

erei'Riov n.

1 subcommander 2 captain of the infantry 3 lieutenant-commander of fleet forces

erein n.

1 antecenturion or subcenturion [Note: Translation sources vary. Officer-cadet of infantry or ensign of the fleet forces.]

etrehh n.

1 machine

fvai, fvaiin n.

1 child's riding beast and house pet [Note: Analogous to the Terran Oligocene-period Mesohippus in size though only approximate in appearance.]

fvillha n.

1 praetor 2 a judicial-level official with some executive powers, now much expanded

fvillhaih n.

1 praetorate

Galae

Fleet (Most specifically, space fleet, since the battles of Rihannsu history were principally land-based. However, there was a later, enthusiastic adoption of massed airpower in both the offensive and defensive modes, and it is here, rather than in naval tradition, that the term has it's origins.)

Haerh

Cargo Space

Haerht

Cargo Hold

Huad

Writing (see text of haudet')

Hnhuadr

Data Transfer (Direct protocol transfer from one computer to another)

Huadet'

Printout (from huad, writing, and etrehh, machine. Computer printout: sometimes, screen dump as well. Cf hnhaudr, see above)

Hfai, Hfehan

Servant(s) (Bond servant earning a wage, but without the liberty of changing employers at will)

Hfihar

House (Noble families, NOT dwellings. see below.)

Hfihrnn

Houses (see above)

hlai, hlaiim

Large, flightless bird(s), farmed for their meat; similar to the terran ostrich. The very largest are also tamed for children to ride. This, however, renders their meat unusable.

hlai'hwy, hlai'vna

"Held" and "Loose" hlai; domesticated and wild (game) birds.

Hna'h

Engage (activation-imperative suffix, eg: "Fire!" "Energize!" "Go!")

Hnafirh

See (but not as an active verb; passive with an implication that someone else must cooperate in the act of sharing or imparting information. Cf. hnafirh'rau)

Hnafirh'rau

Let me/us see it (see above)

Hnafiv

Hear (as above)

Hnafiv'rau

Let me hear (see above)

Hrrau

at/on/in (a general locative particle or infix)

Hru'hfe

Head Servant (Head-of-the-Household. The senior servant among the domestic staff, appointed as overseer and servant's manager)

Hru'hfirh

Head of House (euphemism: "The Lord", Most senior member of a noble family)

H'ta fvau

Come back here (To last place! Immediate return!)

Hteij

Transporter (Transmat. Not considered as a reliable form of travel, most of the time (possibly understandable, considering that the technology was bought second hand from the khell'oann-mhehorael))

Hteij'rhe

Transporter Room

Hwaveyiir

Bridge (Command-Executive center, the flight bridge of a ship as opposed to the combat-control area. (See Oira))

Hwiiy

You are (sometimes imperative)

Ie

Yes (Come, General response or acknowledgement)

ie'yyak-hnah

Fire Phasers!

iehyyak

Multiple Phasers ("multiple" rather than "several" phasers, especially in reference to the combat-control area)

khellian

Hunter (Archaic, also a proper house-name)

khell'oann-mhehorael

The Klingon Empire (See lloann'mhrahel)

-Khoi

Cease (Cease, switch off, finish)

khre'Riov

Commander-General (Equivalent to a colonel of infantry or a commodore of fleet forces)

kllhe

Worm (The annelid worm, introduced to domestic hlai-pens, which ingests the acidic dung and thus processes it to usable fertilizer. Also and insult.)

kll'inghann

The Klingon people (however see khell'oann-mhehorael)

lehe'jhme

A fruit used to make wine

lhhei

Madam

llaekh-ae'rl

Laughing Murder; the practice or kata forms of a common Rihannsu unarmed combat technique. Provenance of the name is uncertain)

lluadh

A sneaky person (not always an insult when used in reference to Rihannsu people or culture)

llhrei'sian

Diarrhea (as a result of mild food poisoning; a term exactly equivalent to "The runs." "The Titanian two-step." "The (any number of edible object)'s revenge."

llilla'hu

That will do ("That's just enough"; barely adequate, sufficient.)

lloann'mhrahel

The United Federation of Planets (However, the term translates most acuurately as "Them, from There" (as opposed to "Us, from Here"). The Klingons, once encountered, were promptly named khell'oann-mhehorael ("More of them, from Somewhere Else".))

lloan'na

Fed (catchall title for a UFP member, translating exactly as a/the Fed)

lloannen'galae

Federation Fleet (Federation Battlegroup, Task Force; the word has aggressive connotations that do not differentiate between warships and civilian vessels, but then Rihannsu have seldom seen the need to regard ships other than ours as anything but potential enemies.)

Mnek'nra

Good (Well, good, correct, satisfactory, inferior-superior mode)

Mnekha

Good (As above, superior-inferior mode)

Mnhei'sahe

The Ruling Passion (The concept, or concept complex, that rules most of Rihannsu life in terms of Honor. Mnhei'sahe is primarily occupied with courtesy to the people around one: this courtesy, depending on circumstances, may require killing a person to do him honor, or severely disadvantaging oneself on his behalf. There are many ramifications too involved to go into, but generall Mnhei'sahe is satisfied if all the parties to an agreement feel that their "face" or honor is intact after a (social) or other transaction. NB: The concept has occasionally been mistranslated as implying that a given action is done "for another person's good." This is incorrect; such a concept literally does not exist in Rihannsu culture. One does things for one's own good -- or rather, the good of one's honor, and if properly carried out, the actions in question will have benefitted the other parties in the transaction as well.)

nei'rrh

small birds, similar in size and flight characteristics to terran hummingbirds. (family Trochilidae). With a poison-secreting spur on the upper mandible of the beak. Also an insult, referring to a person annoying or dangerous out of all proportion to their size, status, or (usually) worth.

neth (...nah'lai)

either (...or)

(neth...) nah'lai

(either...) or

nuhirrien

Charisma ("look-toward, the quality of charisma or mass attractiveness)

oal'lhih

Announce the presence/the arrival

oira

Battle control (aboard warbird-class and smaller ships, this is the same as the bridge-deck (see hwaveyiir) as the flight control area, although rigged for combat; but on larger, Klingon-built Akif and K't'inga class vessels the word applies to a seperate, heavily armored area deep in the command prow.)

qiuu

all

qiuu'n (oaii)

everything, "The lot."

Ra'kholh

Avenger (A popular ship-name in the Rihannsu fleet)

Ra'tleihfi

The capitol city on ch'Rihan

rehei

Private name, fourth name, the name a Rihannsu finds within oneself and then shares only with those closest to him/her.

rekkhai

Sir (inferior-superior high-phase mode)

rha-rh'e

"Indeed?" "Is that so?" (colloq. vulg. "Oh yeah?")

Rhi

Five

Rihanh

The Declared

Rihanha

One of the Delcared (A romulan)

Rihannsu

relating to the Declared (Adjective: Romulan)

Riov

Captain of Fleet Forces. "Commander" of a warship.

rrh-thanai

Hostage-Fostering (sometimes the making of peace by the exchanging of children, each to be brought up by the other's tradition to further understanding and harmony. Sometimes the exchange is simply to provide leverage and a surety of good behavior: "Don't do this, or your son/daughter will die." Fosterings often start in one context and end up in another.)

S'harien

Pierceblood (The name in Old Vulcan, chosen by pre-sundering Vulcan's most famous swordsmith as a reaction against the teachings of surak: The name was also given to his swords)

siuren

Minutes (Or at least, the Rihannsu equivalent, actually equal to 50.5 secs.)

sseikae

A scavenger, analogous to the Terran hyena Crocuta Crocuta and employed as an insult in the same way)

ssuaj-ha

understood (Inferior-Superior mode)

ssuej-d'ifv

Do you understand (Superior-Inferior mode)

sthea'hwii

I request (an action) be done at once (superior-inferior, courteous mode.)

ta krenn

Look there! (Look at this!)

ta'khoi

Screen off (Usage for voice-activated equipment and (if used to another person) very explicit superiority)

ta'rhae

Screen on (See above.)

th'ann(-a)

(the) prisoner

T'liss

A bird of prey/Warbird-class starship

thrai, thraiin

Predator, analogous to the Terran wolverine Gulo luscus; and possessed of similar legendary traits for persistance, vengeful stubborness, and ferocity.

tlhei

My word (Occasionally as in "My (given) word" but more usually "My command/Order/bidding")

urru

go to... (A non-mode imperative, which if circumstances permit can be used from low to high as well as the more usual vice-versa.)

vaed'rae

Attend me (Hear me/Attend me, more imperative than "Listen", and more formal)

vah-udt

"What rank?" (Who are you (to be asking/doing this)?)

vriha

highest/most superior

yhfi-ss'ue

Travel tubes (The public transport system of the five rail-mounted cars, powered by electromagnetic linear morots, carrying 20 persons in an enclosed weatherproof tubes.)
---

B. Curses
---
Dha'rudh

Jerk

Fvadt

Fuck

Hnaev

Crap
NOTE: "Vah-thieur" and "Khoi-Udt" have been removed, since it seems "Vah-thieur" means "What hell", and is an english idiom. More accurate would be "Vahrrau Thieura" which seems to translate to "What in the hell" (Though it is still an english idiom and probably shouldnt be used). And then there is still the argument that "Areinnye" is the proper word for the underworld... In any case, "Khoi-udt" seems to translate to "cease rank", more like demote or discharge than "drop dead". "-udt" does not seem to mean "you".
---

C. Replacement Words Some Derived, Some Invented
---
Arrenhe

Graceful (exact translation)

Aen

Wing

Aen v'Saeihr

Wing of the Stars (Or StarWing)

Rakh'orhe

Vengance

Lhaerrh

Lifter (Object that lifts)

Lhaerrhnen

Lifter (One that lifts)

Dhael

Bird (General; conceptual, as often applied to REAL birds, as to the thought-image of a bird, or gliding, or soaring, etc.)

Terrh

Night

Khaiell

Wind

Saefvi'llahn

Comet

Llaihr

Death

Saeihrnn

Stars

Saeihr

Star

Llhaes

Sky

Ghalai

Swarm

Ssaedhe

Gallant, Brave

Llaiir

Fire

Eirhiss

Nest

Rrh'eilln

Carrier

Aehkhifv

Destruction

Reh'llan

Exploding

Rehllai

To Explode

Fveirrolh

Vigilant, Perserverant

Sienae

Talon

Hvei'khenn

Storm

Khall'ianen

Seeker (One who searches)

Yhea

Swift

Efw'khelh

Defender

Hveillh

Territory; usu. an area of land but now accepted in terms of space as well.
---
NOTE: I got this off the TOS MUSE WWW Homepage.
---
Click here to get back to the Rihannsu Main Page